Free Ground US Shipping On Everything!
No Longer Available for Sale
Recommendations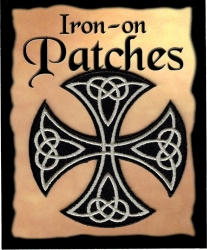 Celtic Cross Cutout Iron-On Patch
$5.00
Assorted Celtic Designs Copper Cuff Bracelet
$9.00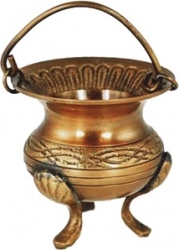 Celtic Knots and Flower Petal Design Brass Cauldron Pot with Handle
$15.00
Pentagram Celtic Knot Sarong Wrap
$14.00
Celtic Nations Flag Car Decal Sticker
$4.00
Celtic Earth with Moon Phases Tote Bag
$11.00
▶ See More Recommendations
Product Details
Product Weight: 1 lbs. 1.0 oz.
Cultural Region: Northern World
A large and impressive brass pot! Celtic knots decorate the sides and flower petals decorate the top. Works great as an incense burner. Fill it with sand or salt, then you can stand sticks up in it. Cones and charcoal tablets can sit on top of the sand or salt. 3.5 inches tall and 4 inches wide. The mouth is a generous 2.5 inches wide.